HUB Vault Security for Enterprise Digital Assets Custody
Data breaches come in all shapes and sizes. Systems breaches great and small have more than doubled in the past five years, and the attacks have grown in sophistication and complexity. For many enterprise solutions, opting for a simple cloud-based solution often can do more harm than good. Trusting cloud providers can be risky business - or better yet, a major risk for your business.
However you choose to look at it, while many cloud providers promise to keep highly sensitive data secure, many also fail to do so. Here are just a few ways your digital assets are vulnerable when stored on the cloud:
Data Breaches – Today it's possible for a hacker to listen for a 'side-channel timing exposure,' signaling the arrival of an encryption key on another VM of the same host.
DDoS and DoS Attacks – Cloud computing has made DoS attacks more prevalent than ever and in some cases, persistent DoS attacks can be too costly and time-consuming.
Compromised Credentials – An attacker in control can eavesdrop on transactions, manipulate data, provide false responses, and redirect customers to a phishing site.
Hacked Interfaces and Insecure APIs – Most cloud services use APIs to communicate with other cloud services, leaving a wide gap for potential exploitation.
Digital Asset Security: A Must for Security Conscious Organizations
A hardware security module, or HSM device is a dedicated cryptographic processor designed to protect highly critical and sensitive keys and assets. Customizable HSMs act as trust anchors that protect the cryptographic infrastructure of some of the most security-conscious organizations in the world.
HUB Vault HSM: Secure Control and Governance Anywhere
Convenient and highly secure processes to remotely manage, request, and approve transactions.
HUB Security's Vault HSM goes well beyond the average run-of-the-mill key management solution. HUB as a platform not only protects, isolates and insures your company's digital assets, but also provides the infrastructure you need to access and use them securely. With the ability to set custom internal policies and permissions, organizations big or small can now use the HUB platform to defend against ongoing threats to their security's IT infrastructure.
Enterprise Ready: Scalability and Flexibility
Scalable, multi-tenant, backup/restore/FOTA

Multi-approval methods including mini-HSM

HSM "as a service" and on-premise delivery options
Blockchain Integrations: Faster Implementation
Native blockchain integrations (e.g. sign and post an ERC20 token on Ethereum)

Ability for custom blockchain integrations
Governance: Business Risk Reduction
Custom multi sig approval processes
Security: Increased Trust
Best in-class military grade security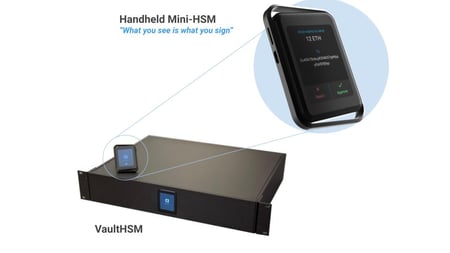 HUB for Banking: End-to-End Security
Banks remain top targets for ransomware attacks, as cybercriminals follow the money for big payoffs. Remote HSM management capabilities for banks are distinctive in that they require more stringent security controls. Banks and other institutions have been wrestling with these unique challenges for decades. With HUB Security's custom HSM device, banks can now:
Transfer Funds

Enforce Multi-signature Policies

Remote Lock and Unlock of Bakery Private Key

Set Custom Mnemonic (Master Key)

Secure Mnemonic Backup

Secure Voting Process for Tezos Proposals